SLOW DOWN, PLAY & EXPLORE.
SWEET SPOT x Portugal.
2. - 9. 9. 2023
Vila Nova de Milfontes, PORTUGAL
The Atlantic Ocean. Untouched windswept beaches. Empowering yoga. Peaceful, misty mornings and magical sunsets.
In late summer we take you to the breathtaking Atlantic coast - to the Alentejo region in Portugal, two hours south of Lisbon, at the Costa Vicentina, that is famous for its wild beaches and rugged cliffs. Removed from the coastal tourist culture, you can discover untouched beaches, wide sandy coves, hiking trails and charming little fishing villages. No crowds, no mass tourism.
Our home base is Cocoon Portugal, a coastal farm and retreat center that offers everything your heart desires, and more. An indoor and an outdoor yoga shala, for us to practice under the canopy of old growth pines. Oversized hammocks, a freshwater lake at the doorstep and the beach just a 15 minutes drive away. A wood-fired pizza oven in the backyard (pizza night!), peacocks, sheep and many more fury friends. Elegant, simple and airy rooms, and the priceless feeling, that time stands still for you.
We are not the first to discover this magical place. The Guardian listed Cocoon two times already as one of the "Top Wellness Retreats" and Condé Nast Traveler features them as one of the "8 Best Farm Stays in Europe".
Your SWEET SPOT experience.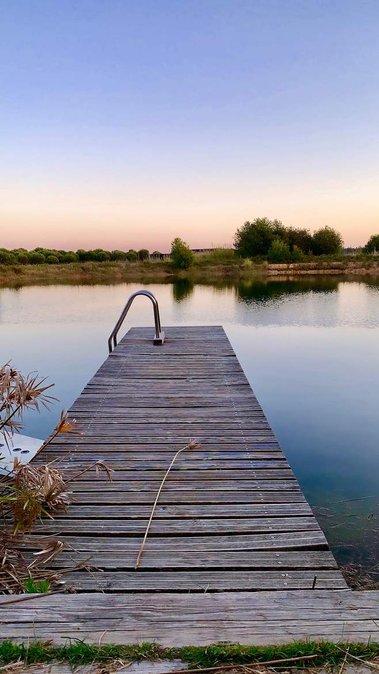 7 nights at Cocoon Portugal. The whole property is ours for the time. A 275 acre farm and dedicated retreat center offering an indoor and outdoor yogashala, a freshwater lake, elegant, bright and simple rooms and plenty of space to slow down, relax and play.
Daily movement, breathwork and meditation Morning and evening practice with Birgit and Mike, founders of SWEET SPOT Yoga. Our Yoga is non-dogmatic, contemporary and richly layered. With a modern, respectful approach to the ancient teachings we aim to create the strongest possible offering for our communitys health and well being. We embrace a wide variety of yoga lineages and styles, Vinyasa, Hatha, Katonah and Yin Yoga being our primary traditions. Our practices are infused with many different elements of other embodiment and movement practices, HIIT sequences, breathwork and ritual. We give amazing hands-on adjustments, find joy in creating playlists and love to shake it out in a sweaty dance session every now and then.
Breakfast, lunch and dinner. Cocoon is well known for its delicious farm-to-table food experience. Expect three lovingly-prepared meals a day (vegan/vegetarian, fish once). The most amazing breakfast buffet awaits you after morning practice offering granola, yogurt, local honey, homemade jam, frittata, oats, fresh fruit, and slow-rise breads. A light lunch is either served or to take away for days with excursions. Dinner will be served family style, expect things like curries, Mediterranean stews, legumes, rice, salads and dessert.
Each day is balanced between group activities, and free time to do as you wish. Skinny dip in the pristine freshwater lake, or simply daydream in Cocoons oversized hammocks. Discover the wild coast, hiking trails and sandy beaches of the area and visit the nearby little fishing village Zambujeira do Mar. Surf classes, horse riding at the beach and other activities can be booked on site upon request.
For those who want to dive deeper into the practices we share through the week, a private yoga session and body reading with Birgit can be booked additionally.
Wether you want to just relax and read your favorite book or explore the beautiful surrounding with (new) friends - everything is optional.